Russian hegemony in Paris – Alsace 2017

Share this article
Placed at 22/06/2017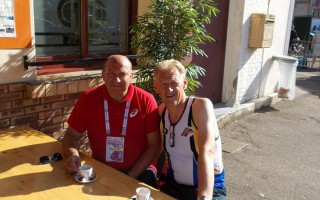 The way in which the athletes from the Eastern Bloc dominated the otherwise thin field of participants showed great similitude.
Parted from the background in the first part of the race, both advanced gradually to the head of the race that in the second part was converted into a sounding final victory.
Man of class Osipov expanded finally a large margin of 2h 08' on the young, coming talent Florian Letourneau. The other Frenchmen Yves-Michel Kerlau on the 3rd place and Serge Georgelin on the 4th position finished with a great delay of respectively 5h 30' and 6h 21' on the Russian.
The latters divided their race superbly and saw their quick advance crowned with a near place of honour. Only just four athletes covered the complete distance (425 km). The rest of the peleton departed from the race early for some kind of reason. Among them also the Belgian Daniel Vandendaul (after 247 km) and Pascal Biebuyck (after 287 km). In the beginning Vandendaul was nevertheless magnificent managed by the BWA's Theo Bické and Donald Van Meenen to a provisionally pretty 6th place. Along the way to Bar-le-Duc (204 km), the Walloon had to struggle with severe back complaints. After the break in Bar-le-Duc (2 hours), the pain was gradually unbearable and on doctors advice Daniel must, deep disillusioned, leave the race (medical termination). A departure in minor at 'his' Paris-Alsace (his 13th participation) and the end of a splendid career as long distance walker 'Grand Fond'.
Nevertheless, this edition brought a positive and excited tone for the BWA-delegation. On the one hand, there was among them the deep sense that this longest race walk in the world is hardly an inhuman task. On the other hand, their task as pacemaker was an unforgettable and enriching experience. Not only through the numerous contacts with among other things the race director Jean Cécillon (see photo), but also the historical, cultural affluence (gotic cathedrals, medieval monasteries, municipal edifices with facades inspired by renaissance), the green undulating landscape of the Vosges, the gastronomy of the region created an unmistakable surplus value for the Flemish delegation.
Translation: Theo Bické
« Back to overview